About the Artist
His familiar signature has been seen throughout the United States on hundreds of public portraits of congressmen and businessmen, and private paintings for individuals and families.
Raised in Evanston, Illinois, Bob Bentley spent his summer months on the water, in the cedar woods, and among the cherry orchards around Ephraim and Sister Bay in Door County, Wisconsin.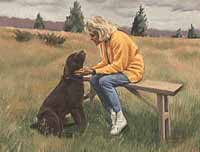 Barb and Chocolate share a moment of "Mutual Admiration"

After several decades away from Door County, Bob returned, settled in Ellison Bay near Gills Rock with his wife, Barbara, and their Labrador, and began to paint the landscapes he knew as a youth.

A Yale honors major and student at the Art institute of Chicago, Bob is known for his boldness with oil paint. While portraits have long been Bob's life as an artist, he has progressed from portraiture to (and including) landscapes. Some of his most special paintings are "portscapes," which allow the subject to be portrayed in a casual, informal setting.

Some

corporate and academic clients that have awarded Bob commissions include: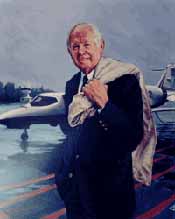 David Hinson, Director, Federal Air Administration
Chicago Symphony Orchestra
Congress of the United States
R. R. Donnelley and Sons
Federal Air Administration
Frank Lloyd Wright Foundation
General Dynamics Corporation
Kraft Foods Corporation
Lloyd's of London
Northwestern University
Rockwell International
United Airlines
University of Chicago
University of Illinois
University of Wisconsin
U.S. Department of Transportation
Yale University, as well as many prominent individuals throughout the world.

His robust landscapes are in private collections in the United States, England, Ireland, Spain and Portugal.