The Portrait Process
Before the sitting, Bob discusses with the client basic objectives for the painting -- locale, degree of formality, clothing and other intangibles. At the first meeting, he sketches the subject(s) and conducts a photo session.
Shortly after the first session, Bob presents several planning sketches to define, with the client, the pose, likeness, overall design, size, style of frame and additional details. One-third of the fee is due at this meeting.
Within about two months -- employing additional sittings if necessary -- Bob presents the finished portrait to the client. The balance of the fee and expenses are due at this time.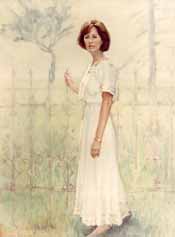 Mrs. William T. McCormick